Gran Duca literally elevates you to higher realms!
Enjoy a delightful lunch or dinner with a stunning panoramic view of De Keyserlei and Central Station.
Antipasto Italiano

€ 25,00

Variety of Italian cold cuts, paired with Campania mozzarella and grilled vegetables

Prosciutto di Parma '24 mesi' e melone

€ 23,00

Parma ham '24 months' with melon

Carpaccio di 'Fassona Piemontese' con rucola
e parmigiano

€ 25,00

Beef carpaccio 'Fassona Piemontese' with rocket and Parmigiano

Terrina di Fegato d'oca fatta in casa con duo
di marmellate

€ 32,00

House-made terrine of goose liver with a duo of traditionally prepared jams

Tiepido di Salmone affumicato con julienne
di indivia Belga

€ 27,00

Lukewarm smoked salmon fillet accompanied by a julienne of Belgian endive, lightly drizzled with a vinaigrette made from artisanal mustard and dill, sweetened with acacia honey from the beekeeper

Scampi fritti con tartara

€ 26,00

Deep-fried scampi with house-made tartar sauce made from fresh herbs

Insalata mista di verdure crude con
una vinaigrette di balsamico e olio d'olivia

€ 21,00

Crudités salad with a balsamic and olive oil vinaigrette
Tagliatelle ai porcini e zucchine

€ 26,00

Variety of Italian cold cuts, combined with Campania mozzarella and grilled vegetables

Ravioli di ricotta e spinaci, salsa di
pomodori freschi, zucchine e basilico

€ 25,00

Fresh ricotta and spinach ravioli paired with a sauce of Italian tomatoes and zucchini, flavored with basil from Liguria

Tagliatelle al ragout d'Astice ½

€ 39,00

Fresh tagliatelle with a half-lobster ragout, sun-soaked Sicilian cherry tomatoes, and garnished with parsley

Spaghetti alle Vongole Veraci

€ 27,00

Spaghetti with sautéed clams in white wine, lightly seasoned with garlic and parsley

Orecchiette Liguri al pesto
con scampi e fagiolini

€ 26,00

Fresh Ligurian orecchiette with pesto, langoustines, and green beans

Penne all' Arrabiata

€ 23,00

Fresh penne with a lightly spicy Italian tomato sauce
Minestrone dell'orto

€ 19,00

Italian vegetable soup
Filetti di Sogliola alla 'Milanese' con tartara

€ 42,00

Filet of sole Milanese with a fresh tartar sauce

Filetto di Salmone con salsa di Vernaccia,
aspargi verdi e funghi

€ 34,00

Salmon fillet with green asparagus, button mushrooms, and a light Vernaccia-based sauce

Zuppa di Pesce alla 'Trapanese'
couscous con legumi croccanti

€ 35,00

Fish soup in the style of Trapani, couscous with crispy vegetables garnished with Sicilian chili peppers
Filetto di Agnello ai profumi di
macchia Mediterranea

€ 38,00

Lamb fillet seasoned with Mediterranean herbs, accompanied by a sauce made from homemade lamb broth, seasonal vegetables, and oven-baked potatoes perfumed with rosemary

Portafoglio di Vitello 'Valdostana'
con formaggio Fontina Valle d'Aosta e Tartufo

€ 33,00

Veal 'Valdostana' stuffed with Fonita Valle d'Aosta cheese, seasoned with truffle, and accompanied by a vegetable tart with a delicate sauce based on homemade veal broth

Ossobuco tradizionale

€ 33,00

Traditional-style veal shank, served with its tomato sauce based on a brunoise, a bouquet garni of bay leaf and thyme, and spaghetti

Saltimbocca di vitello alla Romana

€ 32,00

Veal cutlet in Roman style with smoked Parma ham, seasoned with fresh sage, and a delicately spiced veal jus

Filetto di Manzo Rossini

€ 45,00

Filet mignon accompanied by pan-seared foie gras, truffle, and a Marsala-scented sauce
Tiramisu della casa

€ 14,00

Home-made tiramisu

Formaggi Misti e Contorni

€ 16,00

Cheese platter with its accompaniments

Croccante all'Amarena

€ 15,00

Madagascar vanilla ice cream with crispy sour cherries

Pannacotta con Basilico e Limone

€ 14,50

Panna cotta with basil and lime

Sfera al Mango con Cocco e un Emulsione
di Frutti Rossi

€ 15,00

Mango ball with coconut biscuit and red berry coulis

Tartelette con Crema di Pistacchio e
Cioccolato Bianco

€ 15,00

Pistachio and white chocolate cream tart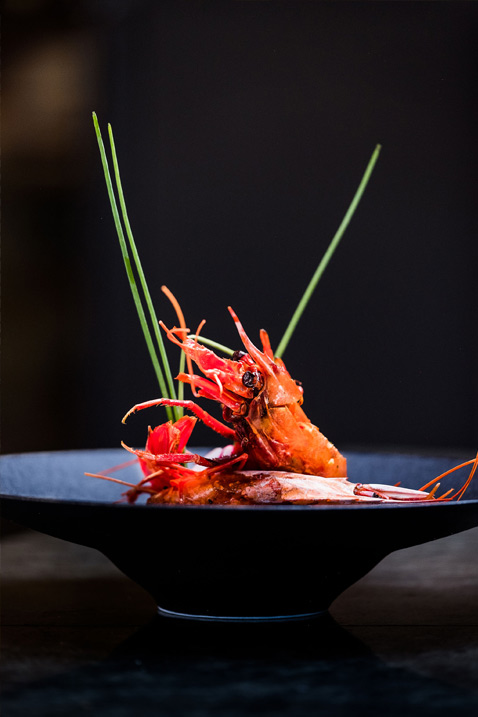 Monday – Friday

12:00 – 14:30
Tuesday – Saturday

18:00 – 22:00
We recommend making an online reservation.